The organizer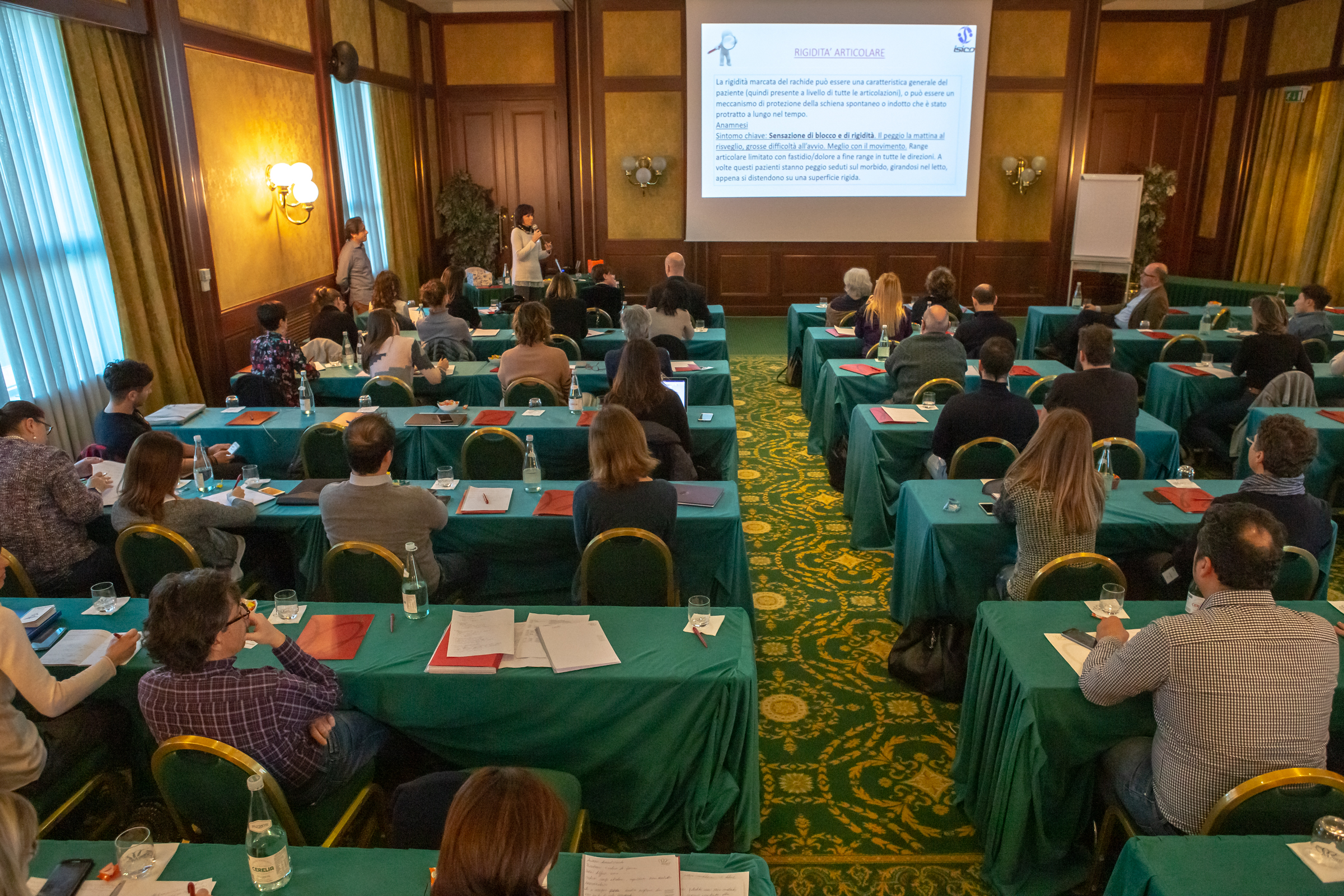 ISICO - Italian Scientific Spine Institute promotes and develops an innovative approach to the rehabilitation treatment of non-surgical diseases of the spine, from childhood to old age.
We treat all the diseases of the spine
scoliosis
kyphosis
neck pain
osteoporosis
ISICO stands out not only as a model of healthcare in daily clinical practice but also for its ongoing research and training initiatives and its embracing of new technologies.
We are one of the most known and credited scientific and clinical centres in the field of scoliosis rehabilitation treatment.
Thanks to our distinctive approach to scoliosis, both in children and adults, patients even come to us from afar for the treatments we offer. We are, indeed, currently treating patients from several countries worldwide.
An initial clinical assessment by our specialists here in Milan will determine whether bracing is necessary, or alternatively whether treatment based on exercises (our SEAS protocol) may be sufficient.
Every year, we see over 8,000 patients (from all over Italy, and beyond) in our outpatient clinics: in addition to our main clinic in Milan, we have a further 33 clinics in nearly all Italian regions where we treat all types of non-surgical back disorders.
The treatment plans we prescribe are drawn up by medical specialists and physiotherapists, applying the same agreed protocols and adopting a team approach that is crucial for the success of the treatments, which can often last many years.
The effectiveness of the techniques we use is scientifically demonstrated at the international level. We strive to offer our patients a service that is tailored to their particular needs, always choosing the least invasive approach.
Once the treatment goals have been established together with a medical specialist, the spinal rehabilitation program is drawn up. For patients requiring only exercise-based treatment, a specific exercise plan will be drawn up to be followed at home. The patient, who is first taught by a physiotherapist how to perform the necessary exercises, therefore only needs to attend the clinic periodically for checks and updates.
The relatively long intervals between these clinic appointments mean that our treatment and care pathways are both easier and less expensive for patients to follow.
Over the years, we have continuously introduced new technologies and innovations to improve the effectiveness of the treatments we provide: these include our clinical archive, which is constantly updated and shared by all our clinical staff, sensors for use in brace treatments, and a clinical diary app for daily use.

Why do we stand out?
Isico stands out at the national and international level for its considerable and always state-of-the-art expertise in the rehabilitation treatment of scoliosis, but also for the scientific research activity that has made our institute an international point of reference for specialists in this field. We use protocols and instruments of scientifically proven efficacy. Indeed, at Isico, medical practice is conducted according to the evidence-based medicine (EBM) approach, which has been defined as "the integration of the best research evidence with clinical expertise and patient values".

What sets us apart in the treatment of vertebral deformities (scoliosis, kyphosis, spondylolisthesis, etc.)?
Our use of the SEAS (Scientific Exercises Approach to Scoliosis) protocol.
Our use of the Sforzesco brace, created and developed by Isico
Our use of SpineCor®, the last-generation dynamic corrective brace for milder forms of scoliosis
Our treatment of vertebral pain (low back pain, neck pain, stenosis, disc herniation, etc.) is characterized mainly by the adoption of a cognitive-behavioural approach associated with a program of exercises.
This method allows us to address even the most complex and long-term chronic forms.
Over the years, we have constantly asked ourselves why patients should come to our centres and choose our specialists, and what they expect from their course of treatment.
We will never stop asking ourselves these important questions as we consider this kind of self-examination to be crucial if we are to go on offering our patients the best possible treatments: these must be based on scientific evidence, but also on medical and human experience, which teaches us that the patient, as a person, should be the focus of the therapeutic team.

2003  The first Isico clinic is opened in Milan.
2004  The first Sforzesco brace is prescribed (in place of a plaster cast).
2005  The first Congresso R&R (national meeting) is held in Milan.
2006  www.scoliosi.org, the Isico blog, aimed at patients with scoliosis, goes online.
2007  Isico prescribes its first Spinecor® brace; Isico is the only clinical centre in Italy that uses this flexible brace for the treatment of mild scoliosis
2008  Isico launches its first Italian Master's course in rehabilitation.
2009  Scoliosis Manager, our free software for compiling plans of exercises for the treatment of spinal disorders, is launched.
2010  Scoliosis and brace treatment: the Thermobrace sensor enters clinical practice.
2011  The first "Concorsetto" (a nationwide competition for brace wearers) is held.
2012  Ten years after the founding of Isico, the Rome clinic is opened, taking the total number of clinics in Italy to 20.
2013  Our training course for foreigners on the SEAS protocol reaches the USA and then Asia.
2014  Isico strengthens its online presence by opening a Facebook page and launching IsicoTv (a YouTube channel).
2015  Scolio-See, our first three-year European scientific research project within the FP7 program, comes to an end.
2016  Isico launches the World Master Course, its first international online Master's course.
2017  The Isico Congress "Spine & Rehabilitation" gets international and online in streaming with simultaneous translation in the English language.
2018 Isico provides patients with a free APP as a support for the treatment.
2019 Isico presents itself on all social media
2020 First edition of the Online Master in Chinese language
2021 Launch of the free APP also for professionals

Since 2003 we have treated over 50,000 patients and published 242 scientific articles in the international literature.


Following this link you will be redirected to our book in English ("THE EVIDENCE-BASED ISICO APPROACH TO SPINAL DEFORMITIES") that describes Isico's clinical approach.