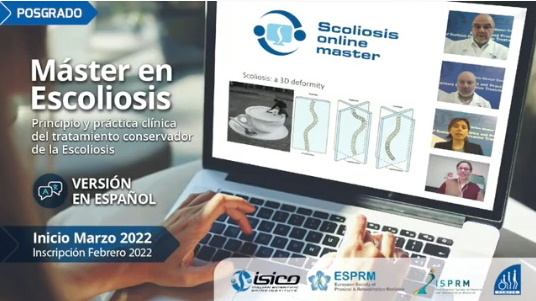 2022 - Launching the Spanish edition!
The year 2022 marks the collaboration with SAMFYR, the Argentine company of physical medicine and rehabilitation for the Spanish version of the online master PPSCT. Another big step in the dissemination of evidence-based knowledge on Principles and Practice of Scoliosis Conservative Treatment.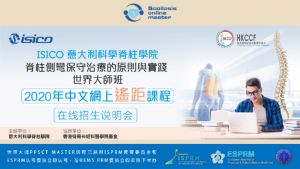 2020 - The Master has doubled!
In 2020, the first Chinese edition officially started in collaboration with the Hong Kong Foundation HKCCF. A remarkable commitment on our part supported by the local organisation, which could prove to be the starting shot and be replicated in the future for editions in other languages!

Contact us
If you need more information before applying
or if you have any questions please contact us at:
Gaby Engelhorn
online.master@isico.it



Register now
and follow a lesson for free
click here
Try for free
endorsements granted for the edition 2021
Feedback
Joan
Sri Lanka
I want to express my utmost gratitude to the Isico teaching staff. Thank you very much! I want to share how the scoliosis masterclass has impacted my practice and the whole hospital in managing scoliosis patients. I am a young physiatrist, just graduated last 2018, and am practising at the Philippine Orthopedic Center, which focuses on Orthopedics and Rehabilitation Cases including scoliosis. The master course provided the most in-depth, detailed, evidence-based and up-to-date discussion of all aspects of idiopathic scoliosis from diagnosis, monitoring to management. It has helped me to explain better to my patients and their parents their condition, the natural history, as well as the options for their informed decision-making. I appreciate that the course has even presented up-to-date knowledge on the field, even those preliminary findings on the ongoing studies that are not yet published. I m going to share all these learnings with residents in training on Rehabilitation Medicine. I now have a wider perspective of scoliosis, and one example of an important take-home learning is the importance of the sagittal profile and how to assess it. All these learnings from this course will ultimately lead to improved care of scoliosis patients. I would like to thank our mentors for being very accommodating in answering all our questions and guiding us even with our actual cases in the clinics via email. Thank you for all your research work in the advancement of knowledge on scoliosis. I am looking forward to the possibility of a SPORT brace course for physiatrist and orthotist, and I am looking forward to meeting you and my classmates in future conventions once it is safe to travel.  Happy happy New Year!
From 2016
worldwide
the only
online course
on Scoliosis
Conservative
Treatment