The registration for Edition 2022 is open - The course starts in few days, hurry up and register !


Watch the Video Feedback from past participants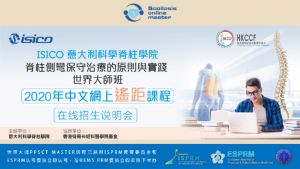 From 2020 the Master has doubled.
In 2020, the first Chinese edition officially started in collaboration with the Hong Kong Foundation HKCCF. A remarkable commitment on our part supported by the local organisation, which could prove to be the starting shot and be replicated in the future for editions in other languages!

Contact us
If you need more information before applying
or if you have any questions please contact us at:
Gaby Engelhorn
online.master@isico.it



Register now
and follow a lesson for free
click here
Try for free
endorsements granted for the edition 2021
Feedback
Juan du Plessis
Australia
Thanks for an awesome experience. The course is great, it really covers a broad array of topics pertinent to the conservative management of Scoliosis. This should be a must for anyone involved in Scoliosis management.
From 2016
worldwide
the only
online course
on Scoliosis
Conservative
Treatment